Well hello there.
So a whole bunch has happened since last we spoke. Namely, this little guy:
Carter Edison Troutman. Born 8.28.13. 100% perfection.
Keeping in the spirit of how crazy life has been these past 10 weeks, we figured we'd do a brain dump on this here blog to keep you up to date on our latest musings. Buckle up, it's going to be a weird ride.

Why Nick watches College Gameday, in percentages:
5% - Desmond Howard's style
10% - Chris Fowler's overall awesomeness
85% - Lee Corso humor
(This was an actual conversation we had one morning.)
Sarah's favorite designers:
A lot of people ask me who I'm inspired by as a designer. It's a difficult question since I do commercial design. There is no Pinterest board that shows you amazing conference rooms or lobbies. Most of that has to come out of the ol' noggin. But since I do enjoy designing my own home, let me share with you my latest obsessions.
This room can do no wrong.
Emily Henderson
is, hands down, my favorite residential designer. She is an amazing mix of vintage, modern, quirky and personal. The room shown above was part of a
recent project
of hers and it's easily my favorite room of all time. Well, at least for the moment. It's fun and fresh and you'd never find it in a Pottery Barn catalog (sorry PB lovers.)
My other favorite blog to follow is
Vintage Revivals.
While Emily is a classically trained designer, Mandi of VR is a self-taught, stay-at-home mom who just started going for it. She's fabulous.
Her daughter's room.
Do I love 100% of everything she does? Of course not. She's a different person than me. But I love her ambition, her fearlessness and let's face it, her humor. Her daughter's
recent bedroom makeover
is one of my favorites. I'm jealous of that kid!
Let's keep it real. Not everything is rosy.
- People buying all the vowels after one spin on Wheel Of Fortune
- The phrase "don't go there"
- Vampire and zombie everything
- Alex Trebek's accents
- Gluten-free everything
- Celebrating Christmas anytime before Thanksgiving. 'Tis not yet the season.
- BuzzFeed's incessant need to post the "top 25 ____"
- Mock turtlenecks, or "mocklenecks." Just go for it, man.
The expected parenting blurb.
There is no way we could have ever guessed how rewarding, tiring, overwhelming and joy-inducing parenting could be. It's just not something you can really ever imagine until you experience it. To know that God our Father loves us immeasurably more than we love our little dude makes my brain want to explode. It doesn't seem possible. And the bond that we've formed with our parent friends? Unreal. To be in the trenches with other parents who labor tirelessly to do right by their children is an honor.
We are most excited to teach Carter about joy. It is such a misunderstood concept. It's not happiness. It's not based in circumstances. It's about living a life of hope and relishing in the immense blessings we've been given. A 10-week old is obviously not able to understand this concept, so in the mean time, we're just making sure to document snippets of our joy in being his parents.
Car bling.
Recently, we made a pretty important purchase. With the 90's being our formative years, we are big fans of The Fresh Prince of Bel Air. You aren't? Go home. You're drunk.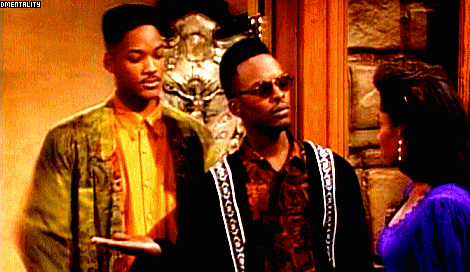 I don't actually remember how we stumbled upon this on Amazon but Nick walked over one night and showed it to me on the iPad. Without saying a word, I said "yep."
Less than a week later this beauty arrived.
So fresh.
This part of the blog was solely intended to make you jealous. Mission: accomplished.
And finally, a slippery slope.
I stumbled upon this (hopefully) amazing site,
Stitch Fix
. Essentially, you fill out a style profile (which is not boring or tedious...actually quite fun) and for $20, a personal stylist will select 5 items to send to you in the mail. The style profile is in depth enough to have your size and style preferences so that those 5 pieces are specifically tailored to you. You can give as much additional info as you'd like to help them know you better and make the best selections. You are not charged for your pieces unless you like them. If you don't dig them, you just send them back in the pre-paid envelope they provide and you're out the $20. But if you buy even one of the 5 pieces, that $20 styling cost gets credited towards your purchase. If you buy all 5 pieces, you get 25% off the whole order.
I immediately emailed this to my BF, Kelly, and tried to gauge if I was crazy. She also loved this idea and it didn't seem to be a scam from Nairobi. So I signed up for a month to try it out. My first fix arrives Dec. 14. I'll let you know how it goes. As a new mom, my ability to go out and shop for myself has been limited to...well, zilch. Not that I really did it much before. But I was really intrigued by
Stitch Fix
and am excited to see what pieces they send to spice up my
life
wardrobe. (Sorry, I was channeling the Spice Girls.)
(Note: if you love this idea too and sign up, do it through the links I provided above and I'll get a $25 referral credit. I promise I'll only use it towards adorable threads.)
And finally, it's Friday! Enjoy your weekend!
You know this guy gets down with a REAL turtleneck on the weekends.