It is quite possible that nobody actually cares about this mini-series we're getting ready to begin. But nobody put a gun to your head and said "GO READ NICK AND SARAH'S BLOG!" so I'm going to assume you're here by choice. If that's not the case, seems you have bigger problems to deal with at this point.
One of the only parts of pregnancy that I've enjoyed so far is planning for the nursery. Up until my 18 week ultrasound, I had it in my head that P-Nut was in fact, a chick. When we were told by the doctor that there was definite "outdoor plumbing," I was shocked. Elated...thankful...excited...but shocked. See, the nursery for this new Troutman was pretty well planned out in my noggin by that point. And the design was for a girl.
Womp womp.
(Dear unborn son, should you ever stumble upon this blog one day: I am in no way disappointed that you are a boy. You're going to be an awesome boy. Whatever disappointment I felt was that my killer girl nursery ideas were going to have to be put on hold. I'm crazy excited that you are a dude. Love, Mom)
A couple months ago, when I was laid up with the winning combo of morning sickness and a sinus infection, I started to put some of my new "this baby is a boy" thoughts to (virtual) paper. This is part one of a multi-part series on how we pimp out the new nursery.
Part One: Form Follows Function
The first thing I always consider in design is, "what does the space need to DO?" We have a guest bedroom and a rather large master bedroom. Four things need to happen in those two rooms.
1) Husbo and I need to sleep.
2) The baby needs to have a place to sleep.
3) We need to retain an office function with a desk and computer.
4) We'd like to keep a place for guests to sleep.
Pre-baby, we had the master bedroom and a guest bedroom/office combo.
One half of a very messy guest bedroom, after all the lovely donations of mama friends.
The other half of the guest room, complete with Nick's old desk and chair.
The guest room never got the full design attention it deserved b/c it was always a hodge podge mix of hand-me-down furniture and a place to store extra "stuff." Before I was married, it was also Bryna's room and later, Steph's. So I never did much to fit it out. Knowing it had the potential of always being a future baby's room, I never bothered spending any money in there.
Once I got knocked up...it was time to get real.
The guest room is pretty large so I felt like keeping a double bed in there with the nursery was doable. That just meant the office function needed to find it's way into the master bedroom somehow.
For those who have never been to our house, the master bedroom is about 21' long by 14' wide. We'd always dedicated half the room to having a mini-living room in it with a couch, coffee table, TV and bookcase.
Whaddup giant tube TV?
When you work together like Nick and I do, it's actually been a blessing to our marriage to have a 2nd hangout area in our home. Sometimes you just need a bit of "me" time.
Enter function #5 we decided to prioritize in the Great Nursery Shuffle: retain a 2nd TV/sitting area.
There was going to be no way to put a desk in the current layout.. First of all, the TV is the size of Mongolia. The coffee table is 3' x 3' and required its own zip code. With my saltines, gingerale and antibiotics handy, I broke out a quick space plan for that half of the room.
Couch stays, but we look at a desk/bookcase combo and try to find a more narrow coffee table.



For anyone thinking, "well I can't plan my space like that b/c I don't have that type of program." Fear not. There are butt loads of free space planning programs online that you can try. And they're quite simple to use. This one is rather popular.




I did want to take it a step farther because when selling an idea to him, it's always nice to let Nick visualize what I'm seeing in my head. So I threw the plan into 3D.



For those of you thinking "Well maybe I can space plan but I can't do that!" Well...that might be true. But I got a degree in interior design and you didn't. I'd never expect to magically obtain the ability to do someone's taxes or diagnose strep throat. But I'm not a CPA or doctor, now am I?
I had no idea what type of coffee table I'd find, so I just threw in something narrow as a placeholder. And what you couldn't see in plan view was a flat screen TV on the wall. I thought just maybe...by the time we sold a bunch of other stuff on Craiglist, we could find a way to afford a small TV for the wall.
I did have the
Expedit
unit in mind for the desk/bookcase combo. So that was shown in 3D...but the rest was all a dream. Once we sold most of the old stuff on Craigslist...it was time to start looking.
We picked up the desk unit a few weeks back when I was in Charlotte for Mandi's bachelorette weekend. Then, my sister gave us a gift card to the Habitat Reuse store last summer and I found this beauty:
Great shape, solid wood, brass tipped legs.
Small tear in the leather upholstery but for the price (FREE!), it was perfect.

What wasn't working for me was that "hey I'm a professional business person" black vinyl seat. My butt deserves more fun than that. So I ordered a yard sample of fabric from one of my reps at work (yes for free...another perk of the job).
Hello, lova.
Hopefully everyone knows how to recover a seat cushion but quickly...
Remove the screws holding the seat down.
Center the fabric pattern (if applicable) and staple away.
Reattach seat w/ original screws.
Voila!
Then I went on a hunt for the coffee table. As luck would have it, I found a great solid wood piece on Etsy...and her shop is located a mere 4 blocks from our house.
Midcentury lines with a small drawer for junk...$100.
Put it all together and...
Ignore the cords. We literally just hung that an hour ago and haven't had time to deal with them yet.
So here's the list after the last few weeks' progress:
1) Retain a place for Husbo and I to sleep.
2) Create a space for the baby to sleep.
3) Retain an office function with a desk and computer.
4) Keep a place for guests to sleep.
5) Retain a 2nd TV/sitting area.
It may look impressive from a "look how much we've checked off" perspective...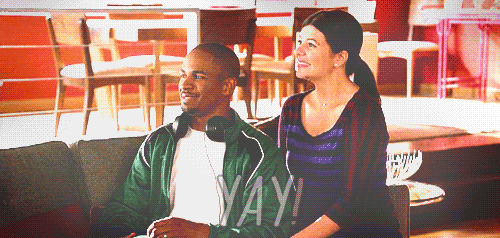 ...but there's so much to be done. The nursery ideas still aren't 100% finalized but I think I've finally narrowed down the perfect paint color. Which is croosh (that's the phonetic abbreviation for "crucial.")
Hopefully I'll have an update soon.
Troutman, out!